By Michele Herrmann | September 29, 2021
Prior to the pandemic, food halls were the fastest growing food trend and the hottest retail concept, and not even Covid-19 has stopped their march forward. These sprawling local marketplaces grew tenfold from 2010 to 2019, when they peaked with 223, according to a May 2020 report from Cushman & Wakefield. Seventy-five percent of them were able to stay open during lockdowns by using a mix of new tactics (outdoor seating and opening take-out businesses, for instance). And they've kept going. Destinations in their own right, here are 12 notable and recently-opened food hubs across the country.
City Foundry STL, St. Louis, Mo.
Eleven kitchens prepare international foods here at the former Federal-Mogul foundry site, which opened in August. Notably, it includes first-to-the-area food vendors. Cuisines range from Argentinian (Buenos Aires Cafe) to Senegalese (Chez Ali). Future plans aim to increase that number to 20. The current roster includes Indian (Turmeric Street Style), Argentinian (Buenos Aires Cafe), and Asian fusion (Kalbi Taco Shack) along with Hello Poke, Subdivision Sandwich Co. and Patty's Cheesecakes. Staged as a central hangout spot, the Kitchen Bar features classic cocktails, wines by the glass and local beers.
The Dairy Market, Charlottesville, Va.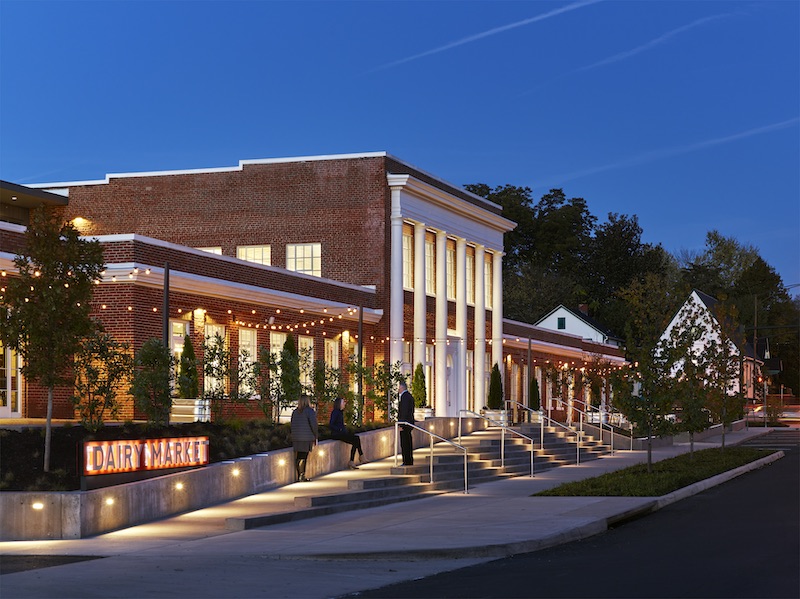 Founded in 1912 as an ice cream company, the Monticello Dairy building became not only a big producer of milk, butter and cheese but also a cool hangout in the thirties with its ice cream parlor. It shut down in 1985 and reopened in June 2021 with a reinvigorated legacy as a food hall. The Dairy Market has 18 vendors, along with corporate or social events spaces and offices. As a community hub, there's a monthly calendar of live music, tastings and exercise classes. The Starr Hill Brewery offers customers a pilot brewery and taproom setup. The market's dozen food stalls extend to Take It Away Sandwich Shop, a UVA fave; Moo Thru, a Virginian ice cream shop and creamery; GRN Burgers, which caters to plant-based eaters; Manila Street, a Filipino eatery; and Maizal, a D.C.-founded Latin American street food concept. Market Mondays is dine-out-for-donations program that supports a monthly partnering local community group. In a nod to the past, The Milkman's Bar honors Americana drugstore soda fountains with fresh classic cocktail takes.
Delray Beach Market, Delray Beach, Fla.
Four stories tall and 150,000 square feet, Delray Beach Market in downtown Delray Beach became Florida's largest food hall once it opened in April. Its offerings are just as plentiful, with 27 local and regional vendors, a rotating lineup of smaller vendor popups, three cocktail bars and an outdoor beer garden. The ground floor is mainly its dining component, with a selection ranging from Sorella's, a handmade pasta company; and Dad's Favorite, an old-school burger joint; to Ferdos Grill, a Mediterranean restaurant; and Salvo's Pizzeria, which prepares New York- and Sicilian-style pies. The market also showcases as a cultural spot with a live entertainment calendar.
The Golden Mill, Golden, Colo.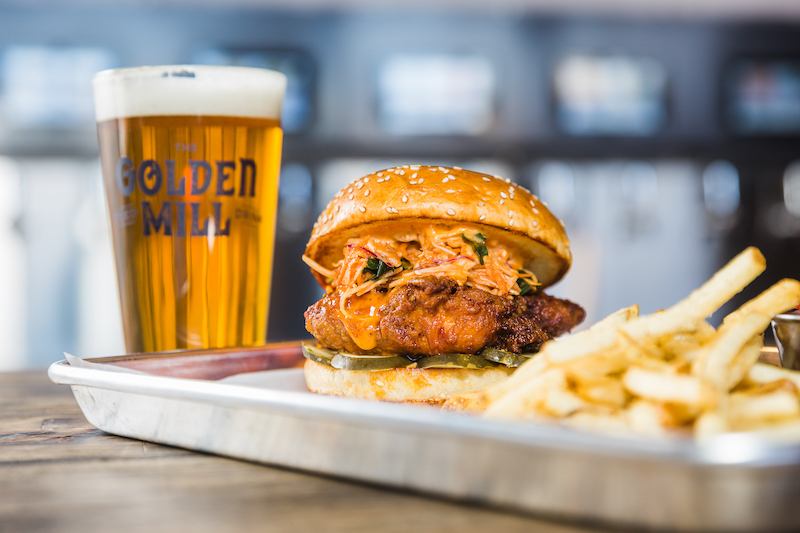 On the site of the historic Golden Mill flour mill and feed store, this two-level, 10,500-square-foot attraction has been part food hall, community center and outdoor spot since its April 2021 debut. A 3,000-square-foot rooftop deck overlooks Clear Creek, with 360-degree views of North and South Table Mountains and Mount Zion. Be sure to grab a drink at one of the two pour walls: The one adjacent to sushi bar Sushi Sora offers 16 taps including sake, wine and cocktails. The second one, called "Old Reliable," has over 50 self-pour beverage choices including homegrown brews, wines, ciders and cocktails. Food vendors also include Tacos Al Chile, Happy Cones, Rolling Smoke BBQ, and Republik of Chiken.
The Hub, Catonsville, Md.
Opened in June 2020, inside a repurposed Sports Authority warehouse, this Baltimore County food hall takes twists on traditional Asian cuisines and welcomes diners of all ages. The vendor lineup includes Mango Mango Dessert, which fuses sweet soups in traditional Hong Kong style with modern treats; Gong cha, a Taiwanese bubble tea maker; BB.Q Chicken, which specializes in Korean fried chicken; The Noodle House, with Japanese ramen; Flaming Grill, which prepares Japanese stir fry; Seafood King, a seafood boil spot; and Hot Pot King, an all-you-can eat concept of this simmering soup stock. Future plans will incorporate vendors selling foods from other cultures. Multiple types of seating can accommodate couples, large groups and families. There's also a children's play area.
The Market at Malcolm Yards, Minneapolis, Minn.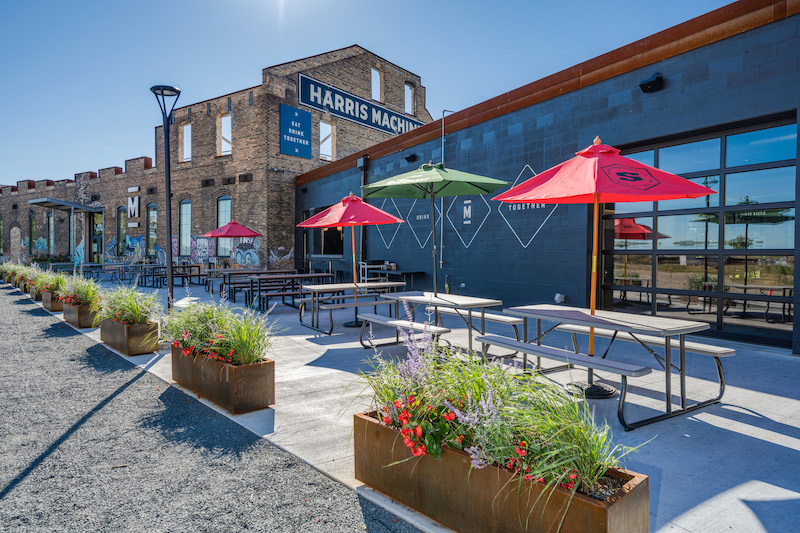 Food fans get nine food concepts inside what was once the Harris Machinery building. The Boxcar Bar prepares batch cocktails, and there's a self-pour tap beer with beer, wine and non-alcoholic selections. Wrecktangle Pizza makes their Detroit-style pies, while DelSur serves Argentinian empanadas and sandwiches, Abang Yoli melds the flavors of Malaysia, Thailand, Korea and Japan and MOMO DOSA highlights Southern Indian street food. The roster rounds out with Advellum Vegetable Eatery, Bagu Sushi, Bebe Zito, Joey Meatballs and Sunday at the Market. The 18,500-square-foot space, which opened in late July 2021, also has two outdoor public patios plus one for private events; neat old fixtures include a railcar track on the ceiling.
Mercantile on Main, Rochester, N.Y.
Open since January 2020, this street-level, 10,000 square-foot food hall at Sibley Square occupies the former Silbey's Department Store. Five out of its seven food vendors are minority- or women-owned businesses. RUFUS Cocktail Lounge is named after the building's founder, Rufus Sibley, while RoCoCo Café is a wordplay on Rochester Coffee Co. Palermo's Market is known for wood-fired pizzas and deli favorites. Nani's Kitchen has a modern twist on Indian cuisine. A Vietnamese restaurant, Broth, prepares not only pho but also spring rolls and rice dishes. Flour Kitchen pairs fresh-made pasta with seasonal sauces and vegetables, while CUT combines flame-grilled protein with veggies or grains. The DGX grocery store and the Commissary, a commercial kitchen facility, also occupy the building.
Optimist Food Hall, Charlotte, N.C.
You'll find the Optimist Food Hal, which opened in August 2019, in Charlotte's Optimist Park nabe. A former textile mill, with design elements intact from its century-plus past — hardwood floors and brick and beam interiors — now houses today's culinary and retail business owners as tenants. Options include The Dumpling Lady — which started as a food truck — where you'll find dumplings, noodles and Sichuan street food. Boxcar Betty's prepares high-end chicken sandwiches and Xiao Bao puts a bold take on Southeast Asian dishes.
Sawmill Market, Albuquerque, N.M.
Welcomed in March 2020, New Mexico's first artisanal food hall is situated inside a former lumber warehouse turned culinary and community events space. Along with a demo kitchen, this 33,000-square-foot cornerstone is bridging New Mexican culinary and cultural offerings from food artisans, craftspeople and artists. Among its 20-plus merchants, 135º BBQ offers barbecue pulled pork and USDA prime beef brisket sandwiches and Red & Green prepares New Mexican cuisine with modern techniques. Inside a greenhouse, the Botanic Bar crafts beverages amid natural beauty. Live music, bingo, karaoke and fitness classes and other programming happens in the outdoor space, The Yard.
Spice Bridge, Tukwila, Wash.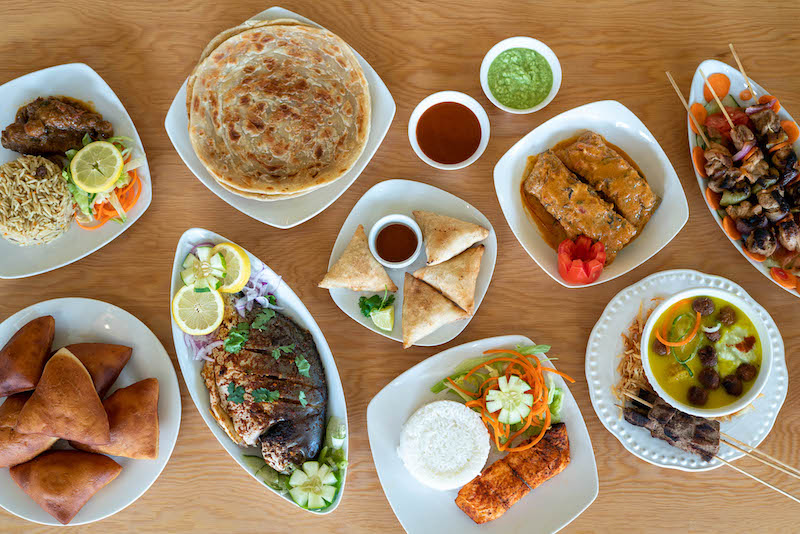 This is a unique setup inTukwila, just south of Seattle: Spice Bridge is home to a food business incubator program that helps women of color and immigrants start businesses.  It's designed to provide an affordable workspace and related business training to those eligible in Washington State's South King County. The 2,800-square-foot facility encompasses a commercial kitchen with four food retail stalls and a community dining space. Up to 20 vendors can be accommodated by working in a stall or kitchen with different hours. They currently include Afella Jollof Catering, with Gambian/Senegalese cuisine; Theary Cambodian Foods; Jazze's, with organic Afghan American fusion cuisine; and Wengay's Kitchen, with Filipino cuisine.
Strang Hall, Overland Park, Kan.
You'll often see Overland Park mentioned on "Best Places to Live Right Now" lists, so it's not a surprise that Strang Hall is now open in the city's Edison District. Introduced in December 2019, this 13,000-square-foot food hall is made up of six chef-driven restaurants, a bar and a coffee shop is planned as well. Named for William B. Strang Jr., a railroad magnate, the hall's kitchens consist of Tora Zushi, a sushi spot; Fénix, a daytime taqueria turned evening Latin restaurant; Anousone, which centers on Laotian and Thai home-cooked cuisine; Minglewood, a reinterpretation of Southern and Midwest tastes; Norcini, which highlights the Central Italian legend of traveling butchers through pizzas and cured meats; and Solstice, which is all about seasonally fresh foods.
Welcome Market Hall, Sheridan, Wyo.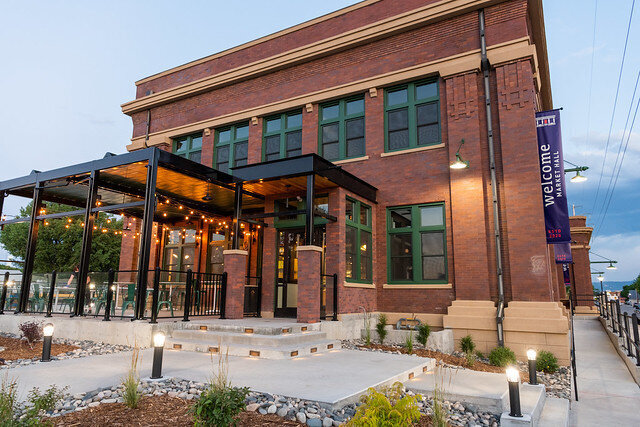 Within a circa 1912-era train depot, and having made its debut in May 2020, this Northern Wyoming addition is a cornucopia of restaurant concepts, a neighborhood bar, coffee shop, lounge and an outdoor patio within its 8,000-square-foot space. Protein is the place for burgers, sandwiches, salads and big meaty plates. Tapas offers smaller plates plus a street taco selection. Dal Forno has pizzas, stromboli and other Italian dishes, while Brunch presents both sweet and savory options of this meal time. The venue is graced with locally created artwork through a partnership with the Bradford Brinton Museum, and its floors and wall tiles are original where possible.